Emailed Home Depot $20 off $200 coupon(s)
Each coupon has a unique barcode that works great IN STORE ONLY at HomeDepot.com.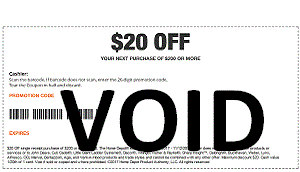 Coupons each with a unique bar code and will work IN STORE ONLY.
Emailed Home Depot coupons expire 6/30/21 or later and are IN STOCK.
We offer a 10 day Money Back Guarantee.
If you have any problems, need a refund or exchange contact us by email: orders@freeroms.com
Coupons will normally be emailed within a few minutes. If you dont have your coupon(s) within 10 minutes
of ordering, check your spam folder or Contact Us.
Disclaimer: You are paying for my time and effort to send these coupons, and not the actual coupons themselves.
Coupons Fine Print:
$20 Off single receipt purchase of $200 or more at U.S. The Home DepotŪ stores. Offer does not apply to installation products or services or to John Deere, Cub CadetŪ, Little Giant Ladder SystemsŪ, DacorŪ, VikingŪ, Fisher & PaykelŪ, Sharp Insight™, DelonghiŪ, Buckhaven, Weber, Lynx, Alfresco, OCI, Marvel, Bertazzoni, Aga, and Vent-A-Hood products and trade styles and cannot be combined with any other offer. Maximum discount $20.
Please select how many Emailed Home Depot coupon(s) you would like and use the following Secure SSL checkout system to pay with your credit card.
Total including S&H:
Orders are processed directly on Authorize.net a VISA company.



If you would like to order with PayPal instead please CLICK HERE.
Emailed LOWES PRINTABLE 10% OFF COUPONS good for $500 off, CLICK HERE for the details.


Emailed LOWES PRINTABLE $20 off $100 COUPONS CLICK HERE for the details.